PROFILE AND HISTORY
We are the factory, which is specialized in abrasives tools for 38 years, The stable quality and good customer service are what we pursue all the time, that's why we have more than 30+ agents all the world,our products sells to 100 countries.We have New techonology, Professional,Economic product range for your choice.
welcome to join us.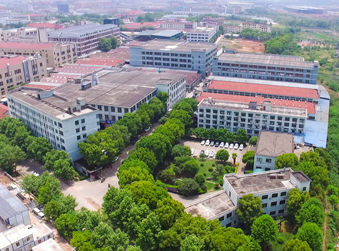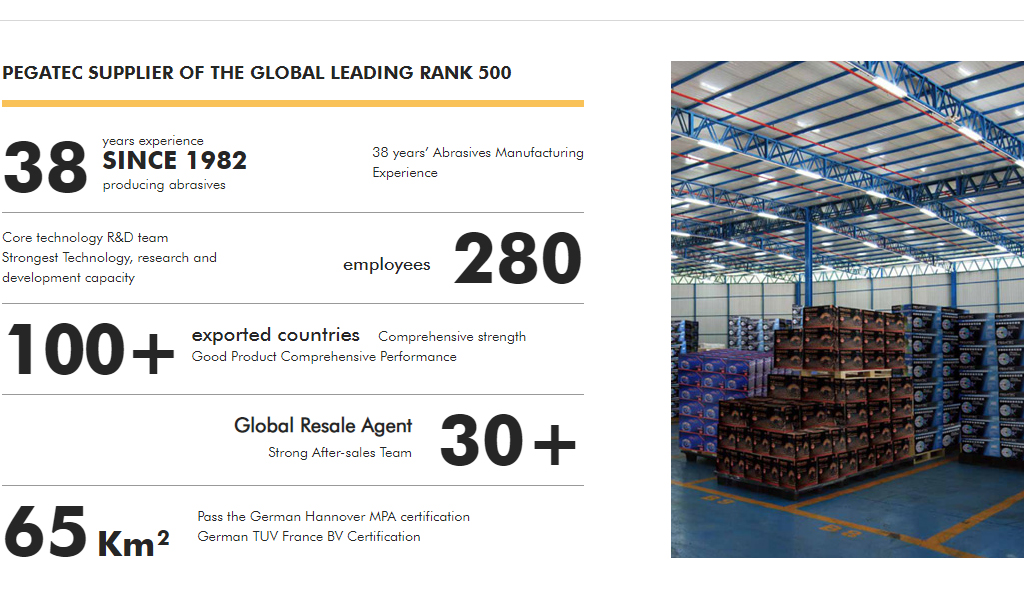 High quality needs to start from the beginning. PEGATEC's main raw material is self-developed and from Germany&Finland to ensure high quality products.
Irreplaceable advanced material technology:
On the basis of new performance, PEGATEC has itself material development department, extracting the most suitable application material from complicated chemical and physical experiments.
Anti-attenuation material-PEGASKIN TM
PEGASKIN TM is a kind of material reducing the possibility of performance decrease. It means to delay the performance degradation during long-time transportation and storage.
Never take chance in raw material
Each working procedure is treated with the most rigorous attitude and the advanced environment control. It makes each grain of raw material maximizing the performance and then ensure the high quality and stability of products.


Our mission is "PEGATEC manufactures the most advanced high performance products". It depends on our usage understanding of worker and evaluation. In this, you can trust PEGATEC under any circumstances bringing you the enjoyment of quality.
Research and development:
In order to create high performance products, our development department learns usage habit and user's requirement of many different countries in the worldwide. It lays foundation for the development of high quality standards. In addition, safety and ergonomics are also the important consideration. All these can be seen from our numerous patents and awards.
Advanced manufacturing experience and machinery
Every year, we will gradually update the modernized production equipment and optimize the usage of workers. PEGATEC has its own mechanical modification and development workshop with which we can do adjustment according to your requirement. Perfect & controllable production processes and advanced equipment is the important premise to ensure consistent products.
Quality passes only after 3 times testing
Only manufacture high quality and stable batch products can ensure users' safety and consistent effect. To ensure this, all the products of PEGATEC will pass the semi-product testing, finished-product testing and inspection before delivering. Quality passes only after 3 times testing.


We will provide you high quality abrasives products and offer the best surface treatment and cutting solution as your requirement.
PEGATEC covers more than 300 kinds of products which are widely used in different industry applications. From rough grinding to mirror-surface polishing and cutting, we will bring you the most convenient products which can meet your requirement. It means that you can get using experience and application knowledge of different industries from our sales team.
when the normal products can't meet your requirement, PEGATEC would like to customize the product suit to you. This is not imagination but base on careful communication with you and requirement analysis. We always take achieving the best efficiency as ultimate goal.
Applications in various industries
■ Still mills
■ Foundry
■ Shipyard
■ Tools and moulds
■ Pipeline construction
■ Mechanical engineering
■ Chemistry and processing
■ Automobile manufacturing
■ Steel structure work and metal processing
■ Container and processing equipment manufacturing
■ Aviation applications, gas turbine manufacturing and maintenance.




We believe that a professional working environment will bring positive working attitude for the worker. And our main purpose is to service well each customer.
Showroom


We show more than 1000 kinds of abrasive products here. It covers all the products of basic application from rough operation to fine polishing. Meanwhile, you can see our company's historical pictures and introduction video. About 70% customers get more excellent products information from here.
Training Room


Each staff is the trainer. Members of company will share their successful experience. The abrasives experts and our agents once came there and explain the products and market sales analysis. Here, the utilization rate is very high. We hope everybody can show his ability there. Therefore, we will not stop the process of learning---wake up ourselves, don't stop.


We attach importance to talent so that our responsibility division is clear. We hope to give full play of each staff and help them to find the suitable position.
They have professional sales ability. This is a professional cohesive team which can help customer to solve any problem of order and technology successfully.
Factory Environment


This is a garden. We offer leisure live environment for the worker who work there. We were awarded as the "Garden-like Enterprise" in 2006, reported and broadcasted many times by media.
Workshop Environment

The advanced production equipment ensures the stability of products quality. But only the strict management can control the products consistency.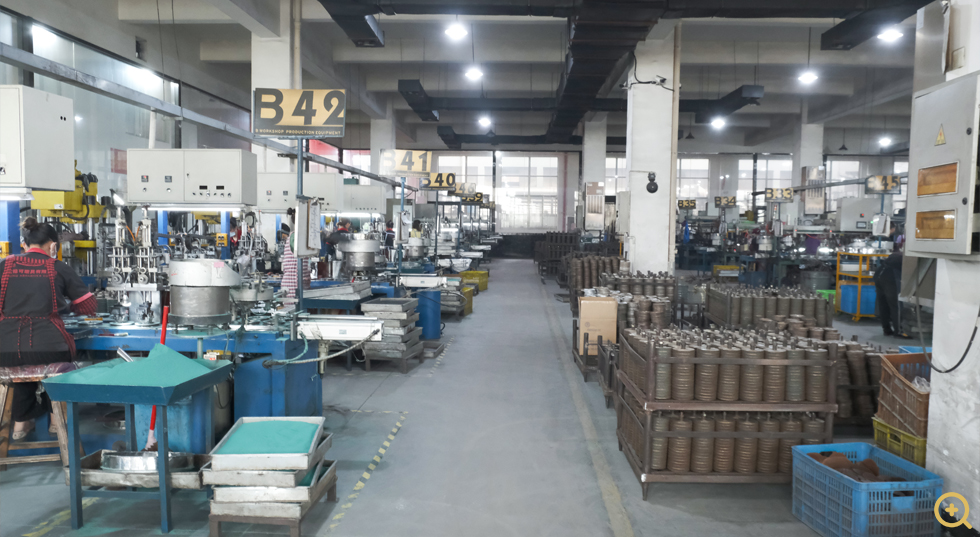 We plan for future. We finish the construction of present factory through nearly a decade. But still continue, we will finish about 35000 square meter integrated plant in next two years. We will optimize our production process by the most advanced design philosophy.

Do you hope to visit PEGATEC? We are happy to offer invitation letter and welcome to visit PEGATEC and WINKING production base. We would like to offer service and show you our products & solutions.




Winking Abrasives Co.,Ltd

OFFICE ADD: 15F, Jin Zu Mansion, Headquarters Center,Yongkang, Zhejiang, P. R. China

FACTORY ADD: Huajie Industrial Park, YongKang, Zhejiang, P.R.China